School Governance Council Consejo de Gobierno Escolar
The School Governance Council (SGC) provides a remarkable opportunity for our school to engage with families and community members in the essential dialogue about student achievement and preparing all students for success.
According the the Connecticut State Department of Education:
"School Governance Councils were created by the state's recent education reform law (Public Act 10-111) to enable parents, school staff, students (where appropriate) and community leaders to work together to improve student achievement in the state's lowest performing schools. School Governance Councils serve in an advisory capacity and are charged with assisting the school administration in making programmatic and operational changes to improve the school's achievement.
El Consejo de Gobierno Escolar (SGC) brinda una oportunidad extraordinaria para que nuestra escuela se involucre con las familias y los miembros de la comunidad en el diálogo esencial sobre el rendimiento estudiantil y la preparación de todos los estudiantes para el éxito.
Según el Departamento de Educación del Estado de Connecticut: "Los Consejos de Gobierno Escolar fueron creados por la reciente ley de reforma educativa del estado (Ley Pública 10-111) para permitir que los padres, el personal escolar, los estudiantes (cuando corresponda) y los líderes comunitarios trabajen juntos para mejorar rendimiento en las escuelas de más bajo rendimiento del estado Los consejos de gobierno escolar sirven en calidad de asesores y están encargados de ayudar a la administración escolar a realizar cambios programáticos y operativos para mejorar el rendimiento escolar.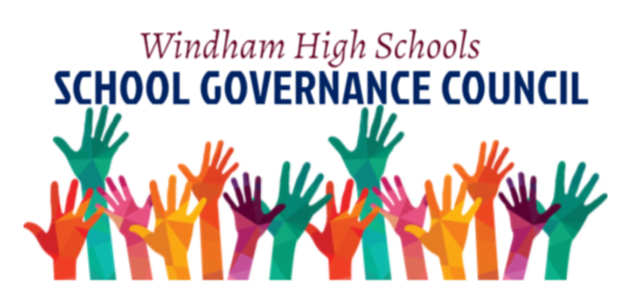 Windham High School Governance Council Members
*************************************
Miembros del Consejo de Gobierno de la Escuela Superior de Windham
Susan Collins– Parent 1st Term

Jerry Phillips– Parent 2nd Term

Adeleyne Prince– Parent 2nd Term

Megan Jenkins- Parent 2nd Term

Darcy Baran– Parent 2nd Term

Kim Swart- Parent 1st Term

Julie Valliere- Parent 1st Term

Resia Baren– Student
Sheskaly Pastrana Rodriquez- Studeny

Andrew Akinmoladun - Teacher

Kerri Eklund -Teacher

Elizabeth Prose- Teacher

VACANT SLOT- Teacher

Emily Kohn- Guidance Counselor

VACANT SLOT- Community Member

VACANT SLOT-Community Member
Meeting Dates
Upcoming meeting dates will be posted on the school & district event calendars.
Fechas de reunión
Las próximas fechas de las reuniones se publicarán en los calendarios de eventos de la escuela y el distrito.