School-Based Health Centers
Flu Clinic Flyer - English
Flu Clinic Flyer - Spanish
Phone860.465.2620
Fax: 860.465.2622
Lynne Weeks, Coordinator
lWeeks@windham.k12.ct.us
Our School-Based Health Centers are located in Windham High School, Middle School, Early Childhood Center, and C. H. Barrows STEM Academy. If you are not registered yet for these health services, parents may register students over the phone or in-person. We encourage you to take advantage of this service for your children's health needs.
Students of Windham High School, Windham Middle School, and the Charles H. Barrows STEM Academy are able to participate in a comprehensive School-Based Health Center Program (SBHC), in addition to the regular school health program that is available to all.
This comprehensive program provides in-depth physical health and mental health assessments through our APRN and LCSW or LMFT who work with affiliation to Windham Hospital and are available in each of the Health Centers. These services may include:
routine check-ups, sports, school, and job physicals;

treatment and follow-up of minor illnesses and injuries;

immunizations;

weight control;

treatment of skin conditions;

health education;

reproductive health and the diagnosis/treatment of sexually transmitted diseases (ages 12 and over);

lab tests;

individual, group, and family counseling;

and drug and alcohol abuse prevention.
Referrals for complex health or mental health problems are made to private practitioners or community agencies.
Parental or guardian permission is required for participation. To assist us in the registration process, we ask that you complete the forms below, including the information regarding the availability of private insurance or HUSKY programs. This must be completed before your child participates in any services provided at the SBHC at your child's school.
If you are uncertain about participation in the Health Center Program and would like to discuss your concerns, please feel free to contact Ms. Lynne Weeks at 860.465.2465.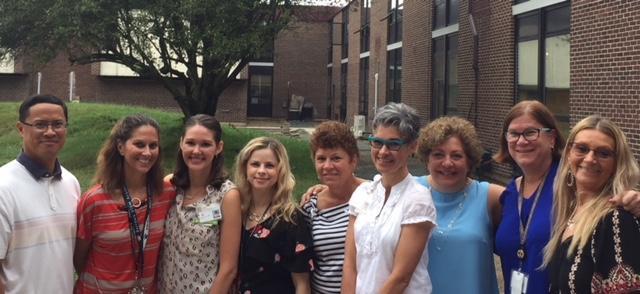 Our Staff
Windham's School-Based Health Center staff members include (left to right): Irsal Cabahug, Advanced Practice Registered Nurse at Windham Middle School and Barrows; Carrie Corso, receptionist at Barrows; Megan Donnelly, Licensed Clinical Social Worker at Barrows; Tamara Bojarski, Licensed Clinical Social Worker at Windham Middle School; JoAnn Pocius, receptionist at Windham Middle School; Carrie Franzen, PhD, Licensed Marital and Family Therapist at Windham High School; Lynne Weeks, School-Based Health Center Grant Coordinator; Karen Zott, Advanced Practice Registered Nurse at Windham High School; Lori Rottino, receptionist at Windham High School.
A program provided in cooperation with Windham Hospital, A Hartford HealthCare Partner, and Windham Public Schools.