2023-24 Financial Information
Understanding the 2023-2024 Budget Process:
On March 1, 2023, the Board of Education approved the Superintendent's Recommended Budget for the 2023-2024 school year. The total budget request was $50,931,094, or a 3.759% increase from the current school year. Once approved by the Board, the budget becomes the Board of Education's Recommended Budget and is represented in the Budget Book linked below. This budget is then provided to the Town's Board of Finance on or by March 15th.
On April 5th, the Superintendent, supported by the Board Chair, presented the 2023-2024 Board of Education's Recommended Budget to the Board of Finance. On April 19th, the Board of Finance approved a budget increase of 2.575%, or $50,349,710. The decrease in requested funds represents a reduction of $581,384 in the school system's health care contributions. The understanding between the Board of Education and the Board of Finance is that the Town will support the school system in the event our health care claims exceed the total contributions.
Please call (860) 465-2310 or email the Superintendent at tyoungberg@windham.K12.ct.us with specific questions about the district budget.
Please vote at the Budget Referendum on May 9th!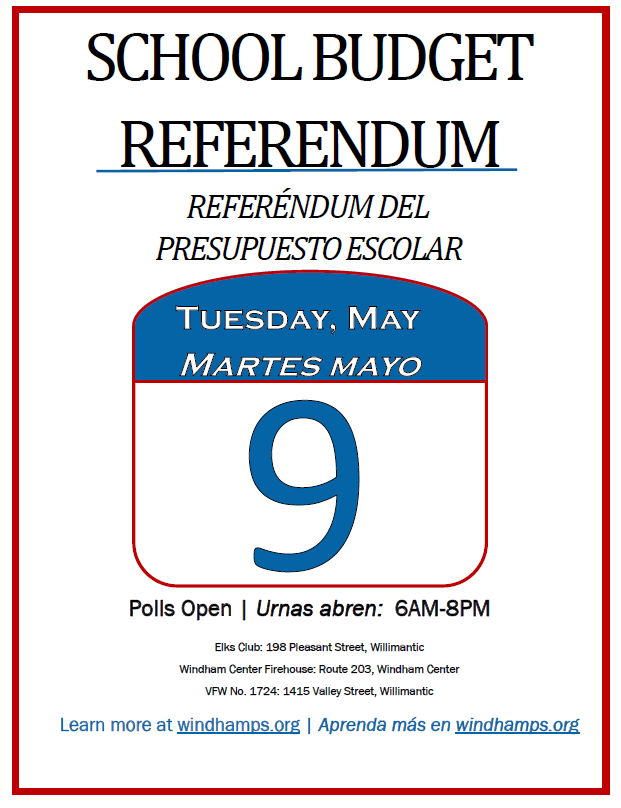 The Board of Education invites all members of the public to any of the Finance and Audit Committee meetings, held each month, where financial issues are presented and discussed in preparation for full Board of Education meetings.
THANK YOU!
May 10, 2023

Last evening, both the Town's and the Board of Education's budgets passed. We believe this is due to our commitment to presenting budgets that are student-centered, transparent, and sustainable. And, we must celebrate the collaborative way our Board of Education and Board of Finance have been working together in support of our schools.
In short, Windham's children win when we work together. Thank you for your support of Windham Public Schools.
Tracy Youngberg
Superintendent