Buenas tardes Comunidad windham, Espero que todos hayan disfrutado de su primera semana completa de vacaciones de verano. Primero, me gustaría recordarles a todos que estamos alentando fuertemente a los estudiantes a participar en el Desafío de Lectura de Verano del Gobernador y el Recientemente publicado Desafío de Matemáticas de Verano del Departamento de Educación del Estado de Connecticut. Celebraremos a los estudiantes en septiembre que participen en estos programas. La información se puede encontrar en la sección de noticias del sitio web del distrito. A continuación, como parte de nuestro cumplimiento continuo con el Plan de Rescate Americano (ARP): Fondos de Ayuda de Emergencia para Escuelas, Primarias y Secundarias (ESSER), debemos pedirle continuamente al personal, los estudiantes, y los miembros de la comunidad que opinen sobre cómo deberíamos gastar estos fondos. Tómese unos minutos para proporcionar sus comentarios en el enlace de la encuesta:
https://docs.google.com/forms/d/e/1FAIpQLScUKSVqX_hz3xNrMsWQejpR8Eer2H-feUEG1R1JagYL30hqzA/viewform
. También puede llamar o enviar un correo electrónico a mi oficina si prefiere compartir sus pensamientos de esa manera. Finalmente, más de 700 estudiantes se beneficiarán de la programación ampliada de la escuela de verano del distrito. Estamos trabajando estrechamente con la compañía de autobuses para garantizar que las rutas de autobuses se completen y comuniquen a tiempo. La escuela de verano está programada para comenzar el lunes 11 de julio. Les agradecemos su paciencia y esperamos ver a nuestros estudiantes trabajando fuerte en nuestros salones este verano. Muchas gracias por su tiempo y por favor disfruten de la última semana de junio. Tracy A. Youngberg, Ed. D. Superintendente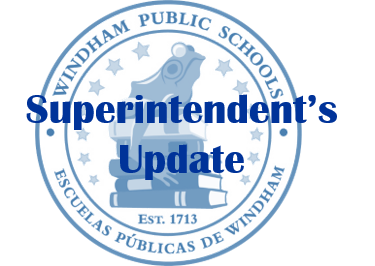 Good Afternoon Windham Community, I hope everyone has enjoyed their first full week of summer vacation. First, I would like to remind everyone that we are strongly encouraging students to participate in the Governor's Summer Reading Challenge and the Connecticut State Department of Education's recently released Summer Math Challenge. We will be celebrating students in September who participated in these programs. Information can be found in the news section of the district's website. Next, as part of our ongoing compliance with the American Rescue Plan (ARP): Elementary and Secondary Schools Emergency Relief Funds (ESSER), we need to continually ask staff, students and community members to weigh in on how we should be spending these funds. If you have not already done so, please take a few minutes to provide your feedback on the survey link:
https://docs.google.com/forms/d/e/1FAIpQLScUKSVqX_hz3xNrMsWQejpR8Eer2H-feUEG1R1JagYL30hqzA/viewform
. You may also call or email my office if you would prefer to share your thoughts that way. Finally, more than 700 students will benefit from the district's expanded summer school programming. We are working closely with the bus company to ensure bus routes are completed and communicated in a timely manner. Summer school is scheduled to begin on Monday, July 11th. We thank you for your patience and look forward to seeing our students working hard in our classrooms this summer. Thank you very much for your time and please enjoy the last week of June. Tracy A. Youngberg, Ed. D. Superintendent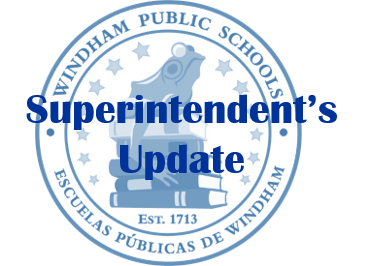 Good Afternoon Windham Community, First, I want to congratulate all of our 5th grade and 8th grade students and their families on their promotion to middle school and high school, respectively. It was very nice to be a part of the 8th grade promotion ceremonies yesterday and to observe the 5th graders being celebrated at all of our elementary schools. Tonight, we are anxiously awaiting the graduation of Windham High School's Class of 2022. We are incredibly proud of our graduates and wish them the best of luck in whatever they dream their future paths to be. Tomorrow, Wednesday, June 15th is the last day of school for all of our schools except for Windham Middle School and the Windham Early Childhood Center and the specialized programs housed within the middle school building. This was due to the water main break that occurred earlier this year. Thursday, June 16th will be the last day of school for Windham Middle School and the programs housed there. Both June 15th and the 16th are early dismissal days. Next, I wanted to wish all of our students and staff a joyful end to their school year. It was certainly a challenging and unpredictable year. As a district we are encouraging students to participate in the Governor's Summer Reading Challenge. Information about this program, which is designed for students K-12, can be found on our district website under the News section. Students, grade levels and schools that participate in the Summer Reading Challenge will be celebrated in the fall. Finally, we will see the students registered to attend our summer programming on Monday, July 11th when our district-wide summer school begins. Have a great night everyone and a safe and relaxing summer vacation. I will be back in touch very soon. Thank you. Tracy A. Youngberg, Ed. D. Superintendent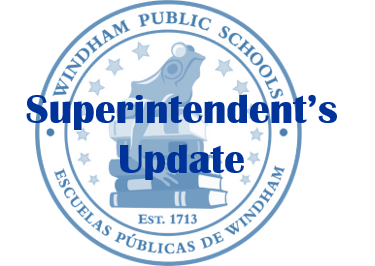 Good afternoon Windham Community, The Town's and BOE's Budget Referendum is scheduled for May 10th. Please be sure to vote at one of the following locations: Elks Club, Windham Center Firehouse, VFW. Polls will be open from 6:00am – 8:00pm.

Buenas tardes Comunidad Windham, El referéndum presupuestario de la Ciudad y el BOE está programado para el 10 de mayo. Asegúrese de votar en uno de los siguientes lugares: Elks Club, Windham Center Firehouse, VFW. Las urnas estarán abiertas de 6:00 a.m. a 8:00 p.m.

School-Based Health Center Walk-In Clinic on August 30 & 31st from 8:00am-3:00pm at Windham High School. Visit our website for more information,
https://www.windhamps.org/
. Clínica sin cita previa del centro de salud en la escuela los días 30 y 31 de agosto de 8:00 a.m. a 3:00 p.m. en La Escuela Secundaria de Windham. Visita nuestro sitio web,
https://www.windhamps.org/
.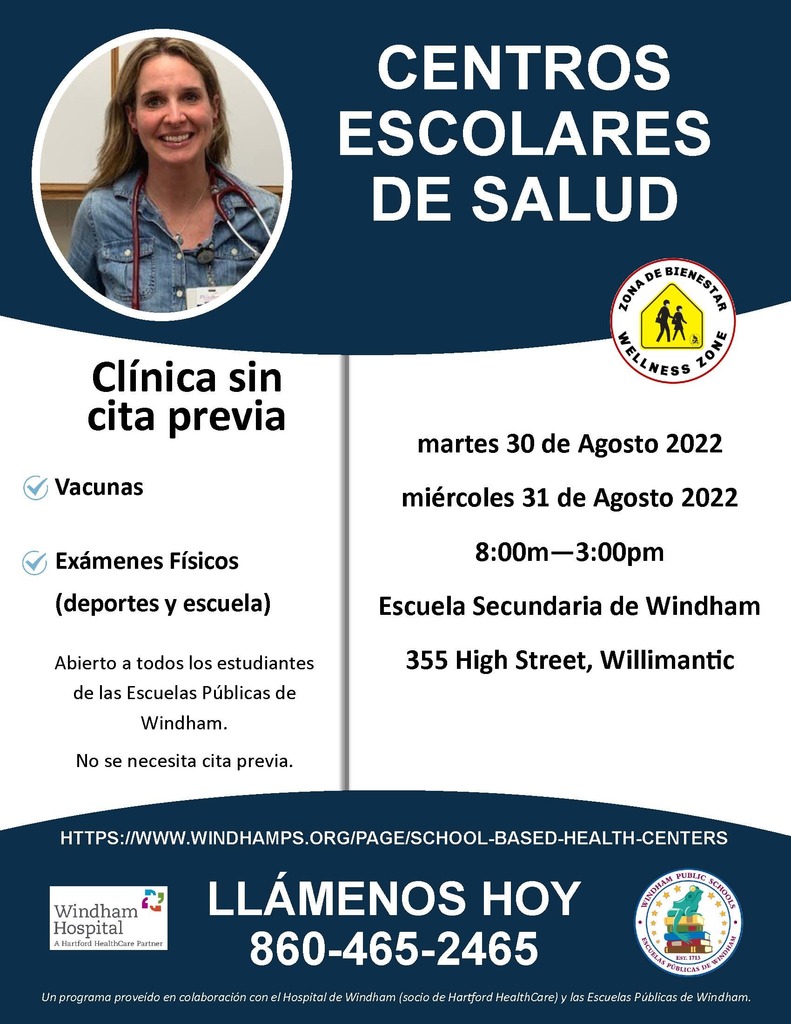 Kindergarten registration begins next week, May 2, 3, 5 and 12. Registration is by appointment only, please call one of our elementary schools to register your kindergartener or if you have questions. Natchaug 860-465-2380, North Windham 860-465-2400, Sweeney 860-465-2420 and Windham Center 860-465-2440. Please check our website for all required documentation for registration. La registración al jardín de infantes (Kindergarten) comenzará la próxima semana, 2, 3, 5 y 12 de mayo. La registración es solo con cita previa, llame a una de nuestras escuelas primarias para registrar a su hijo al jardín de infantes o si tiene preguntas. Natchaug 860-465-2380, North Windham 860-465-2400, Sweeney 860-465-2420 y Windham Center 860-465-2440. Consulte nuestro sitio web para obtener toda la documentación requerida para el registro.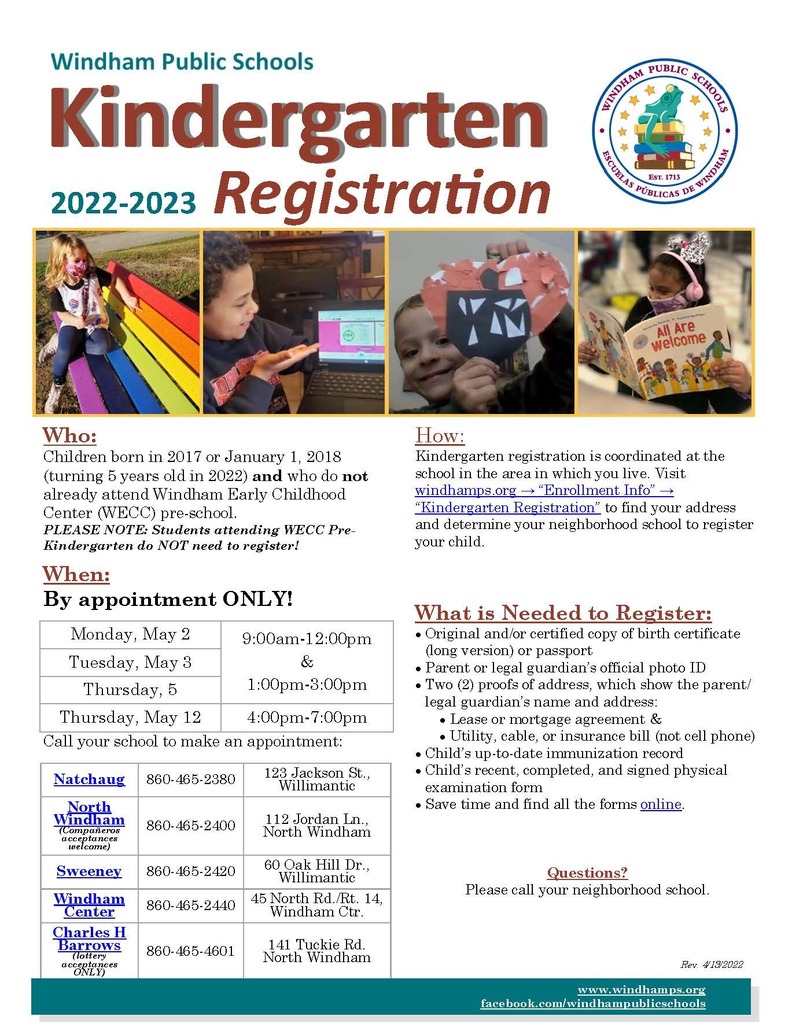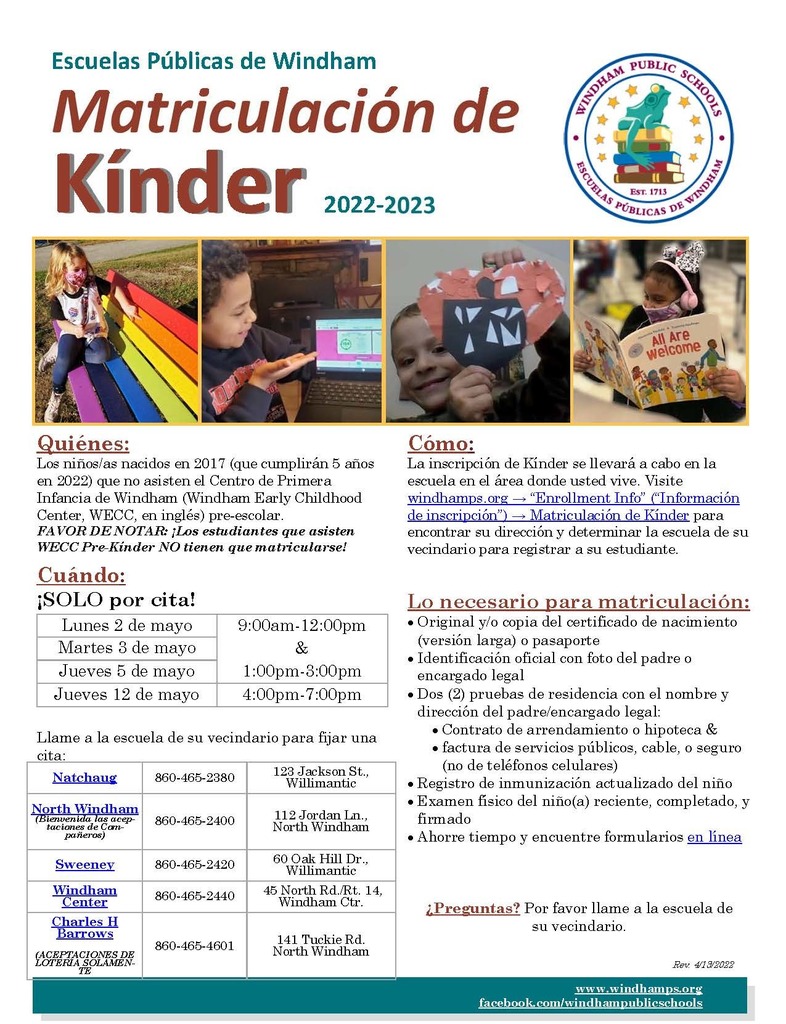 Solo un recordatorio rápido de que la audiencia pública para la Junta de Finanzas es esta noche, donde se revisará el presupuesto del BOE. Queríamos recordar a todos que el BOE está solicitando un aumento del Cero 0% para el año escolar 2022-23. Diríjase a nuestro sitio web en
https://www.windhamps.org/page/financial-information
para encontrar el enlace de la agenda de la reunión, así como otra información relacionada con el presupuesto. ¡Esperamos verte allí, ya sea en persona (en el Town Hall, segundo piso), o virtualmente!

Just a quick reminder that the public hearing for the Board of Finance is tonight, where the BOE budget will be reviewed. We wanted to remind everyone that the BOE is requesting a Zero 0% increase for the 2022-23 school year. Head on over to our website at
https://www.windhamps.org/page/financial-information
to find the meeting agenda link, as well as other budget-related information. We hope to see you there, either in person (at the Town Hall, second floor), or virtually!

Buenas tardes Personal y familias de Windham, En primer lugar, todavía estamos bien en términos de casos de COVID y hemos estado promediando alrededor de 6 casos positivos por semana. El personal y los estudiantes deben continuar quedándose en casa cuando no se sientan bien, informar cualquier resultado positivo de las pruebas a las enfermeras de su escuela. Continuamos rastreando los datos en el Panel de Control del Distrito. A continuación, anoche la Junta de Finanzas aprobó unánimemente el Presupuesto de la Junta de Educación 2022-23. El miércoles 20 de abril a las 6 p.m., la Junta de Finanzas celebrará su Audiencia Pública sobre los Presupuestos municipales y de la Junta de Educación. La Audiencia Pública será una reunión híbrida, lo que significa que puede asistir en persona en el segundo piso de la Alcaldía o puede unirse a la reunión virtualmente. Nos encantaría que nuestros padres, maestros e incluso estudiantes compartieran sus pensamientos sobre el presupuesto escolar en la Audiencia Pública el 20 de abril. Puede encontrar información sobre nuestro presupuesto en nuestro sitio web. Vaya a windhamps.org, haga clic en el botón Explorar y, a continuación, haga clic en el enlace Información financiera que aparece en la sección Junta. Finalmente, mañana el distrito estará cerrado en observancia del Viernes Santo y la próxima semana nuestras escuelas estarán cerradas por nuestras vacaciones de primavera. Cuando regresemos de las vacaciones de primavera, quedan aproximadamente 8 semanas del año escolar 2021-22. Espero que nuestros datos de asistencia de estudiantes mejoren en todo el distrito durante los últimos meses de escuela. Estoy buscando que todas nuestras escuelas terminen este año de una manera alegre y productiva. Tengan unas maravillosas vacaciones de primavera y para aquellos que celebran por favor tengan una Feliz Pascua. Dra. Tracy Youngberg

Good Afternoon Windham Families, First, we are still doing well in terms of COVID cases and have been averaging about 6 positives per week. Staff and students should continue to stay home when they are not feeling well report any positive test results to their school nurses. We continue to track data on the District Dashboard. Next, last night the Board of Finance unanimously approved the 2022-23 Board of Education Budget. On Wednesday, April 20th at 6pm, the Board of Finance will hold its Public Hearing on the Board and Town Budgets. The Public Hearing will be a hybrid meeting, meaning you can attend in person on the second floor of the Town Hall or join the meeting virtually. We would love for our parents, teachers and even students to share their thoughts about the school budget at the Public Hearing on April 20th. You can find information about our budget on our website. Go to windhamps.org, click the Explore button, then, click on the Financial Information link listed under the Board section. Finally, tomorrow the district will be closed in observance of Good Friday and next week our schools will be closed for our Spring Vacation. When we return from Spring Break there are approximately 8 weeks left of the 2021-22 school year. I am looking forward to our student attendance data improving district wide during the last couple of months of school. I am looking for all of our schools to end this year in a joyful and productive manner. Have a wonderful spring vacation and for those who celebrate please have a Happy Easter or a Happy Passover.

Visite el Panel COVID de WPS para obtener la información más actualizada sobre casos positivos dentro de nuestro distrito. Lo puede encontrar aquí
https://www.windhamps.org/page/reopening-covid
Recuerde que los estudiantes y el personal de la escuela que presentan síntomas deben quedarse en su casa. Nuestras enfermeras escolares han recibido instrucciones de enviar a los estudiantes y al personal sintomáticos a casa. ¡Agradecemos su cooperación!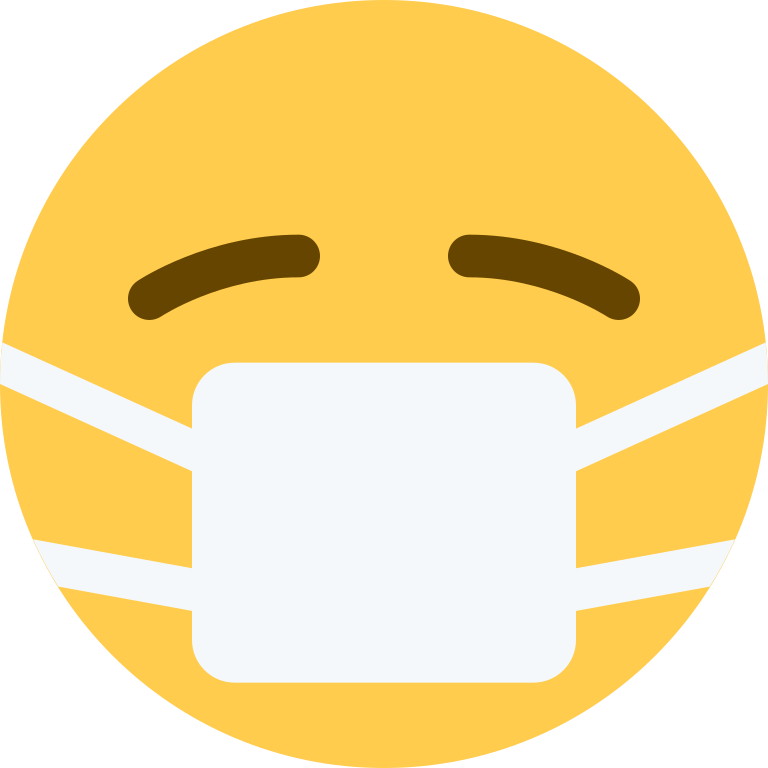 Please visit the WPS COVID Dashboard for the most up-to-date information on positive cases within our district. You may also find it here:
https://www.windhamps.org/page/reopening-covid
Please remember that students and staff exhibiting symptoms need to stay home from school/work. Our school nurses have been directed to send symptomatic students and staff home. We appreciate your cooperation!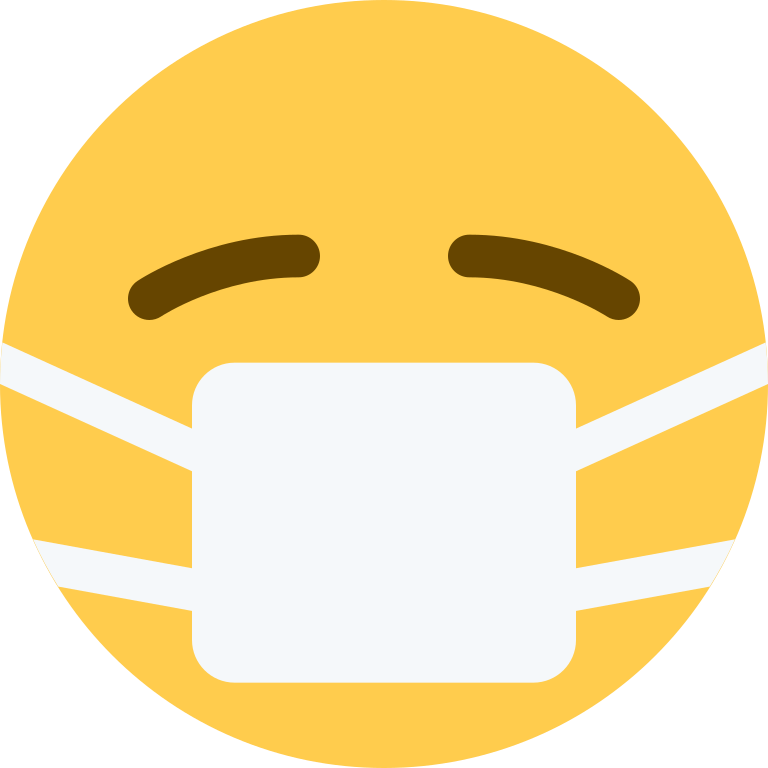 Summer Fun 2022 is almost here. Don't forget to register your incoming K through grade 8 student by Thursday, April 14 so that they can join in the free in-person summer program. For more information please visit our website,
https://www.windhamps.org
.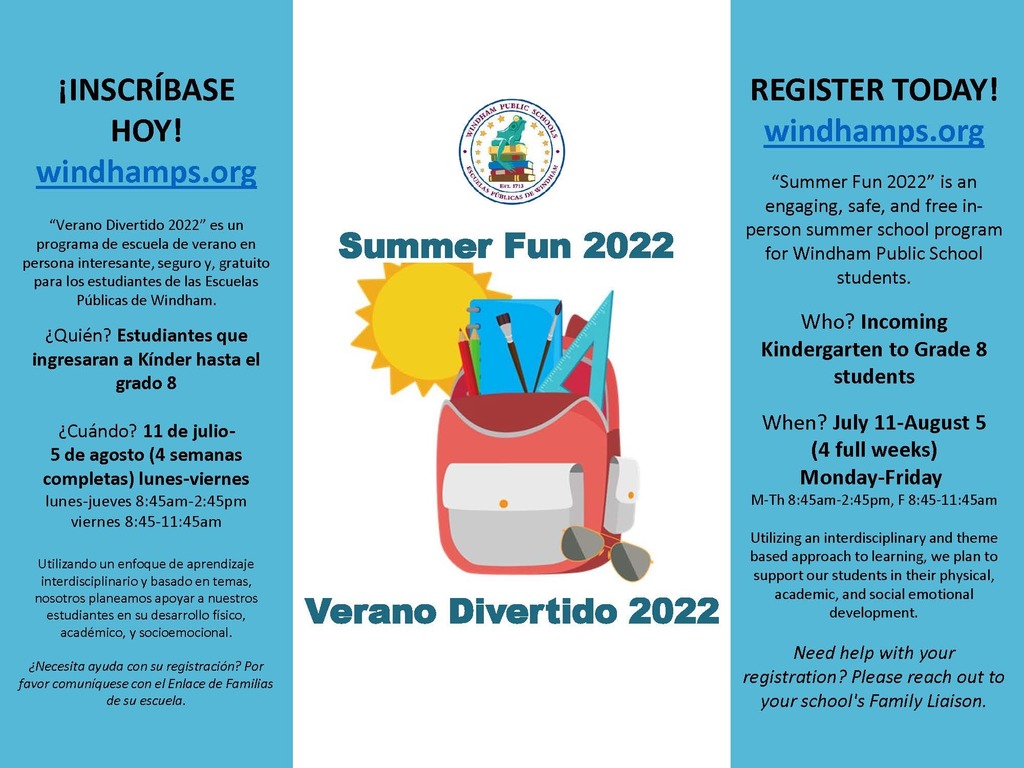 Verano Divertido 2022 ya casi está aquí. No olvides registrar a tu estudiante entrante de K a octavo grado antes del jueves 14 de abril para que puedan unirse al programa de verano gratuito en persona. Para obtener más información, visite nuestro sitio web,
https://www.windhamps.org
.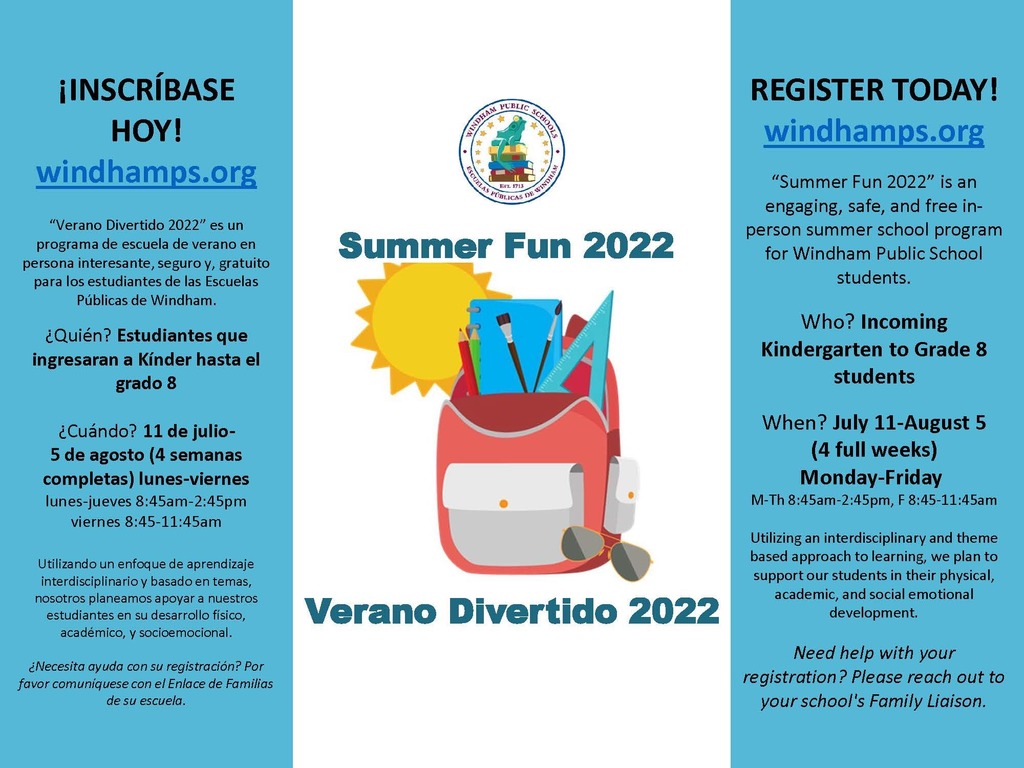 Actualizaciones importantes Buenas tardes comunidad de Windham, El distrito está experimentando problemas con el acceso a Internet y correo electrónico. Estamos trabajando para restaurar el acceso lo más rápido posible. Gracias.

Good afternoon Windham community, Unfortunately, the district is still experiencing issues with internet and email access. We are working to restore service as quickly as possible. Thank you.

Good morning Windham Community, We are currently experiencing internet and external phone issues throughout the district. Please bear with us as we work to resolve this issue. Thank you.

Annual Take Time to Play day, open to all families, will be held on Saturday, April 9th, 2022, from 12:00 - 3:00 pm at Memorial Park, Willimantic, CT