Good afternoon Windham Community, I would like to wish you all a wonderfully relaxing Thanksgiving break and to direct your attention to my Thanksgiving letter here:
https://5il.co/1l545
Happy Thanksgiving everyone! We'll see you back in school on Monday, November 28th. Tracy Youngberg Superintendent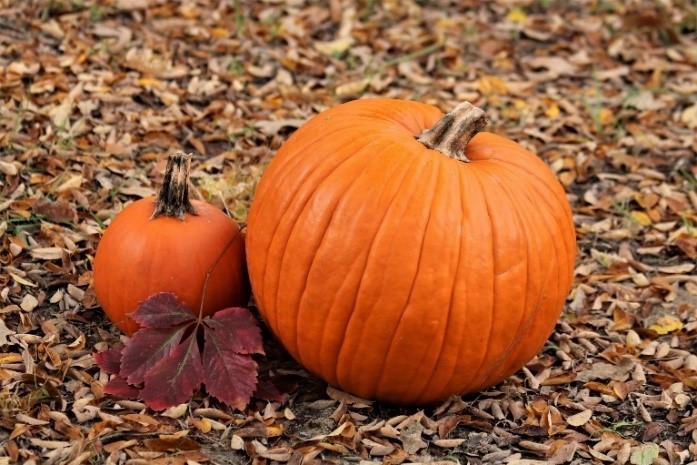 Good afternoon Windham Families, As we head into the weekend, please take a few moments to give us your input through our families survey:
https://forms.gle/QLrBY4M4VW4fVRPm8
This survey is an important tool to help us better serve all students, and we look forward to your input. The survey will be open until noon on Monday, November 28, 2022. Have a great weekend, Tracy Youngberg Superintendent


Buenas tardes, Para eliminar cualquier confusión, queríamos enviar un recordatorio rápido de que todas las Escuelas Públicas de Windham estarán en sesión mañana, 8 de noviembre. Todas las Escuelas Públicas de Windham y las oficinas del distrito estarán cerradas el viernes 11 de noviembre de 2022 en observancia del Día de los Veteranos. Gracias Tracy Youngberg

Good afternoon, In order to eliminate any confusion, we wanted to send a quick reminder that all Windham Public Schools will be in session tomorrow, Tuesday, November 8th. All Windham Public Schools and district offices will be closed on Friday, November 11, 2022 in observance of Veterans Day. Thank you, Tracy Youngberg Superintendent

Buenas tardes Aproximadamente a las 10:50 a.m., el Departamento de Policía de Willimantic notificó a La Escuela Secundaria de Windham que recibieron una llamada telefónica con amenaza de un intruso armado en el campus de la Escuela Secundaria. Ordenaron al Principal de la escuela secundaria que comenzara los procedimientos de cierre, ya que la policía pronto estaría en el campus. Una vez que llegó la policía, ordenaron que colocara a todas las demás escuelas del distrito en un refugio en el lugar. Después de que el departamento de policía de Willimantic registrara minuciosamente todo el edificio y determinara que los estudiantes y el personal no estaban en peligro, se levantó el bloqueo y se inició el despido de los estudiantes con su apoyo. Si bien no creen que estemos en peligro, la policía de Willimantic continuará observando el campus de La Escuela Secundaria de Windham durante todo el día de hoy, ya que saben que tenemos padres programados para conferencias de padres y maestros durante las próximas horas. Desafortunadamente, creen que este incidente fue parte de un esquema de swatting en todo el estado, ya que La Escuela Secundaria de Windham fue una de varias escuelas en el estado que recibió amenazas similares. Quiero dar un saludo a los estudiantes y al personal de La Escuela Secundaria de Windham por la increíble forma en que manejaron otra situación muy estresante. La policía los felicitó a todos por seguir claramente los protocolos de seguridad. ¡Buenos trabajos, Windham High! Familias, si no recibieron el mensaje de texto o el correo electrónico que salió a las 11:10 a.m. de hoy y explicó sobre el cierre y el refugio vigente, comuníquese con la escuela de su hijo para asegurarse de que tengamos su información de contacto más actualizada y que esté inscrito para recibir estos mensajes. En situaciones como esta, no podemos hacer llamadas telefónicas hasta que estemos seguros de que todos los estudiantes y el personal están a salvo. Gracias por su paciencia continua mientras el sistema escolar trabaja a través de estas situaciones perturbadoras y aterradoras. Continuamos manteniendo la seguridad de los estudiantes como nuestra principal prioridad. Que tengas una buena noche. Tracy A. Youngberg, Ed. D. Superintendente Escuelas Públicas de Windham

Good Afternoon, At approximately 10:50am, Windham High School was notified by the Willimantic Police Department that they received a phoned in threat of an armed intruder on the Windham High School campus. They directed the high school principal to start lockdown procedures as the police would soon be on campus. Once police arrived they directed me to place all other district schools into a Shelter in Place. After the Willimantic Police department thoroughly searched the entire building and determined students and staff were not in any danger, the lockdown was lifted and dismissal of students was started with their support. While they do not believe we are in any danger, Willimantic Police will continue to observe the Windham High School campus throughout the day today as they are aware we have parents scheduled for parent teacher conferences for the next couple of hours. Unfortunately, they believe this incident was part of a statewide swatting scheme as Windham High School was one of several schools in the state to receive similar threats. I want to give a shout out to Windham High School students and staff for the amazing way they handled another very stressful situation. The police complimented all of you for clearly following the safety protocols. Nice job, Windham High! Families, if you did not receive the text message or email that went out at 11:10am today and explained about the lockdown and shelter in place, please contact your child's school to be sure we have your most up to date contact information and that you are signed up to receive these messages. In situations like this, we cannot make phone calls until after we are certain all students and staff are safe. Thank you for your continued patience as the school system works through these disruptive and frightening situations. We continue to hold student safety as our top priority. Have a good night. Tracy Youngberg Superintendent

We are experiencing phone and internet issues this morning. As a result, email communication with schools may also be impacted. We are working to resolve these issues as quickly as possible and apologize for the inconvenience. Estamos experimentando problemas de teléfono e Internet esta mañana. Como resultado, la comunicación por correo electrónico con las escuelas también puede verse afectada. Estamos trabajando para resolver estos problemas lo antes posible y pedimos disculpas por las molestias.

Please join us on October 22, 2022 from 1-4pm at 1 Jillson Square, Willimantic for the Town of Windham YOUTH COAT GIVEAWAY! This event is sponsored by the Mayor, Town Council, Windham BOE and Windham Recreation. This event is open to all Windham-area children (please note that the child does need to be present) Children's sizes available: 3T - 16Youth No pre-registration is required For more information, please call Windham Rec at 860-465-3046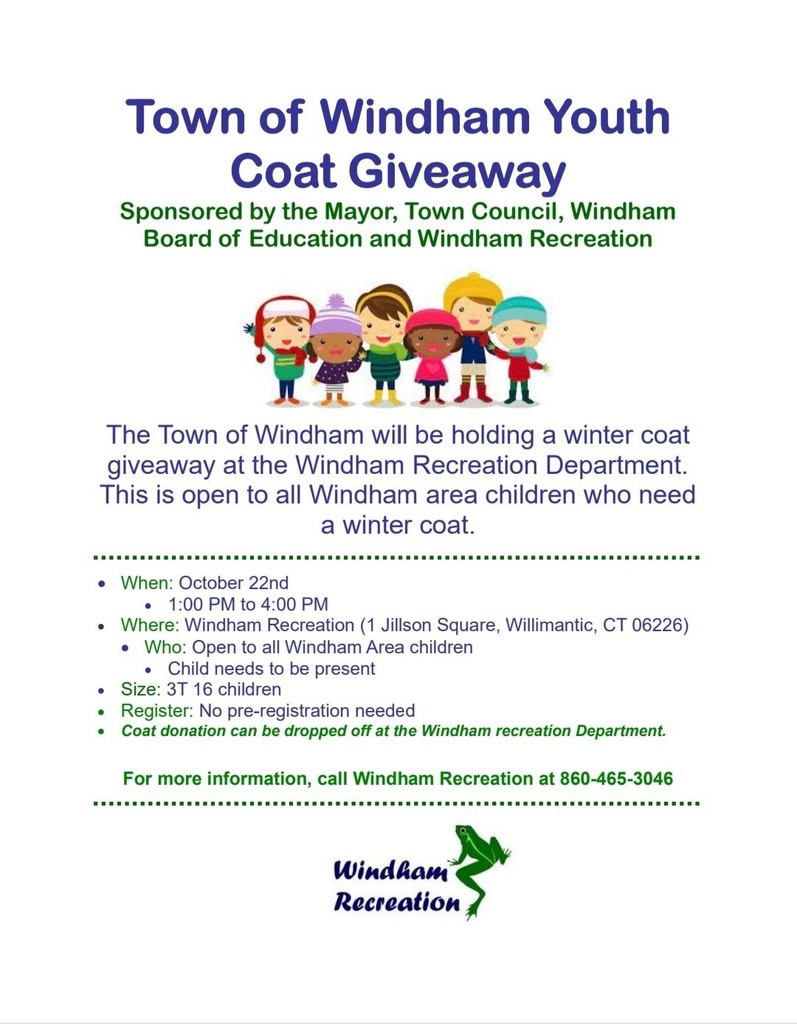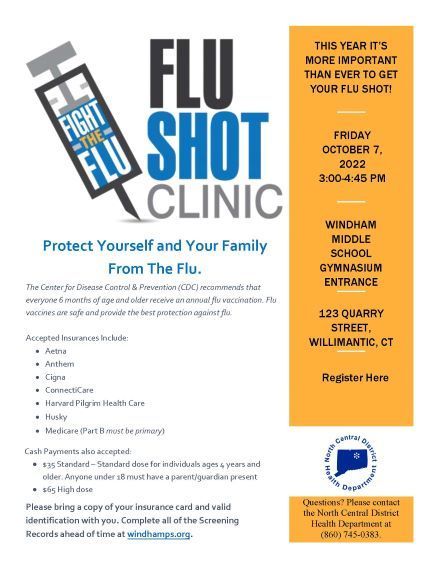 Good Morning Windham Community, I want to share details of this morning's events. At approximately 7:45am this morning, Willimantic Police Department received a call stating there was an armed intruder at Windham High School. Police responded immediately and placed the school and attached Central Office on lockdown. Out of an abundance of caution they placed our other schools in the district on lockdown, as well. Willimantic Police officers and officers from the Eastern Connecticut State University proceeded to conduct an in-depth search of the high school building and campus, and found no results or an indication of an active threat or danger to our students or staff. After consulting with the police department and considering the heightened level of anxiety building wide, I determined that dismissing Windham High School early was prudent. The dismissal of Windham High School was done classroom by classroom to ensure continued safety with the outside campus secured. Once Windham High School was dismissed, we then lifted all safety protocols in our other school buildings. We acknowledge that the timing of this emergency response created additional stress for our students who many have been caught on buses, or just beginning their school day. We also acknowledge that Windham High School students and staff were witness to a full police search that is quite frightening. For these reasons, we are making sure our crisis teams in each building are available for students and staff should they need them. Please encourage your children to talk with you, or with adults they feel safe with at school, about the frightening parts of their day. Tomorrow when Windham High School students and staff return, we have requested an increased police presence as the high school team works to debrief today's events with their students. I want to thank Chief Hussey and the Willimantic Police Department, as well as the officers from Eastern Connecticut State University, for their swift response to the threat. They will continue to follow up on any leads uncovered by today's investigation. As a school system, we will continue to collaborate with both the Willimantic Police and the State Police on all school safety matters. I wish I had words to share with you that could alleviate the anxiety of our students, families and staff. All I can say to you is that we will do everything in our power to ensure every member of our learning community remains safe. Thank you very much. Tracy A. Youngberg, Ed. D. Superintendent Windham Public Schools

Good morning Windham Community, The shelter in place order has been lifted for Windham Public Schools, with the exception of Windham High School, which is dismissing early. Crisis teams are available for any students and/or staff who may need it. In addition, Windham High School students and staff will have access to the crisis team tomorrow when they return to campus. We will update you as more information is available. Thank you, Tracy Youngberg Superintendent

Good morning Windham Community, Windham High School will be dismissing early today. The police department will be safely escorting all Windham High School students off campus. All other Windham Public Schools will remain sheltered in place until further notice. This is at the direction of the police. We know you are concerned and we will provide updates as soon as possible. Please be assured that we are taking all precautions necessary to ensure the safety of all students. Thank you, Tracy Youngberg Superintendent

Good morning Windham Community, Windham High School and Central Office are in a police-directed lockdown. Out of an abundance of caution, police have also instructed other Windham Public Schools to lock down. If you have not already dropped your student(s) off, please do not arrive on campus until directed to do so, per the police department. We will update you as soon as possible, and know that we are taking every measure to ensure safety of all students. Thank you, Tracy Youngberg Superintendent

Healthy Kids Day - September 17, 2022
Buenas tardes a todos, Solo un recordatorio de que esta noche las familias de Escuela Intermedia de Windham están invitadas a la escuela entre las 5:00 y las 5:45 pm para aprender sobre la nueva estructura de liderazgo y los planes de mejora escolar. Mañana por la noche, miércoles 3 de agosto de 5:00 a 5:45 pm, las familias de North Windham están invitadas a su escuela para una presentación similar. También quiero recordarles a todos los miembros de la comunidad que esta noche a las 6:00 p.m. hay una Reunión Especial de la Ciudad donde los miembros de la ciudad votarán para autorizar los fondos para cubrir las mejoras de capital presentadas en el ciclo presupuestario de primavera. Las mejoras de capital son esos gastos de alto costo necesarios para garantizar que nuestros edificios escolares sean seguros y estén completamente operativos para nuestros estudiantes. La reunión de esta noche a las 6:00 pm se llevará a cabo en el Town Hall de Windham ubicado en 979 Main Street en Willimantic. Por favor, salga esta noche y ejerza su derecho al voto. Muchas gracias. Tracy A. Youngberg, Ed. D. Superintendente
WMS and NWS Informational Meeting / Reunión Informativa de NWS y WMS. WMS- Tuesday, August 2nd, from 5-5:45 in the WMS auditorium. Martes 2 de agosto, de 5 a 5:45 en el auditorio de WMS. NWS- Wednesday, August 3rd, from 5-5:45 in the NWS cafeteria. Miércoles 3 de agosto de 5 a 5:45 en la cafetería de NWS.

Please join us for the FAMILY & COMMUNITY EXPO on Saturday, August 13, Jillson Square/Shaboo Stage, presented by Windham Public Schools & Town of Windham. This event will run from 11:00am - 3:00pm. There will be food trucks, fun, music, vendors, and a free backpack giveaway for students!